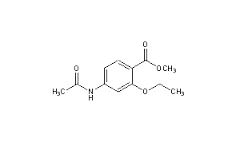 Ethopabate
Product Description
Ethopabate is popular as a high-quality veterinary drug. It is suited for the treatment of prophylaxis and coccidiosis in chickens. This arylamide is included with phenyl ring and belongs to monocyclic aromatics. This safe drug is provided with anticoccidial activity and provides relief in the intestinal forms. It does interferes with the folate synthesis and has great activity against E. Ethopabate has peak activity and helps in the prevention of coccidiosis.

Key Points:

1) Useful to provide immunity to chickens.
2) Highly healthful for the poultry animals.
3) Recommended to use under experts' advice.
4) Popular as the high-quality activator of folate metabolism.