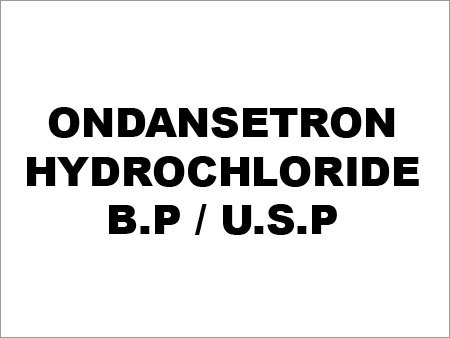 Ondansetron Hydrochloride BP
Price And Quantity
Product Specifications
Product Description
Marking a niche in the medical sector, we are proficient in manufacturing and exporting a wide stock of Ondansetron Hydrochloride BP / USP. These are widely used during the chemotherapy and radiation therapy for cancer, in order to pevent vomiting and nausea. With excellent effects on the central and peripheral nerves, the offered Ondansetron Hydrochloride BP / USP is available to clients in different grades. Supplied mainly to pharmaceutical industries, these drugs are offered to clients at economical prices.
Features
Blocks serotonin receptors
Certified quality
Tried and tested
Further Details

It is used for the prevention of nausea and vomiting caused by radiation therapy and chemotherapy for cancer, and, in some cases, to prevent these problems following surgery. Its effects are thought to be on both peripheral and central nerves. Ondansetron reduces the activity of the vagus nerve, which activates the vomiting center in the medulla oblongata, and also blocks serotonin receptors in the chemoreceptor trigger zone.